Nexus Mutual Partners with Chaos Labs for Economic Audit of RAMM Mechanism Design
We are proud to announce that Nexus Mutual has partnered with Chaos Labs!
@ChaosLabs will conduct an economic audit of the Ratcheting AMM (RAMM) design and work with the Foundation Engineering and DAO R&D teams, as the new tokenomics development progresses.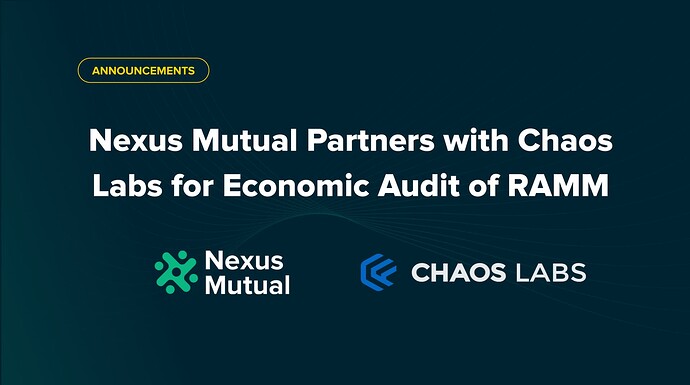 Economic Audit
Chaos Labs will leverage its research prowess and sophisticated agent-based simulation platform to achieve the following:
Undertake an in-depth review and stress test of Nexus Mutual's RAMM mechanism design to evaluate its resilience under typical and adverse market conditions.
Provide a sense check and suggest changes to the RAMM parameters being set by the community.
If identified, develop strategies to protect the mechanism against any manipulation.
Commitment to Security
After holding an extensive RFP process, the Nexus Mutual Foundation selected Chaos Labs as the economic audit partner based on their clear understanding of the complexities in the proposed mechanism and how best to test the design to ensure it is bulletproof.
As a protocol that protects members against risk, the security of the Nexus Mutual protocol from a smart contract and economic perspective is always our top priority. Chaos Labs is the perfect partner to help us confirm that we will meet this objective after implementing the new mechanism.
Audit Timeframe
The work is due to start next week and the first steps—consisting of the design review, manipulation analysis and simulation work for the Stage 1 implementation of the RAMM—should be completed over a 10-week timeframe.