Over the next few weeks/month I'll start outlining my thoughts on future developments/roadmap on three main topics:
Product roadmap
Capital scaling
Decentralisation
The first one is product. We've shared some direction on this previously but now we're specifically after input on what you as members of our community think we should focus on.
Our broader vision is to enable the mutual to take on any type of risk; smart contract risk, oracle risk, other crypto risks but also risk outside crypto like earthquake and hurricane. So some of the following items are fundamental building blocks that will enable many more products in the future and others are more specific product items that might help cover growth in the near term. In visual form: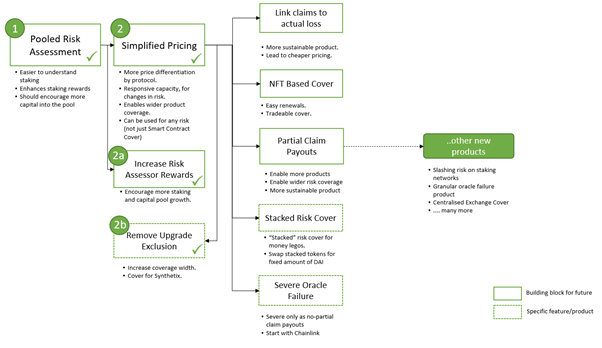 Now that we have Pooled Staking and Simplified Pricing in place we have created a shortlist of items that we believe are good next steps for the protocol. I'll briefly expand on each item below:
Link Claims to Actual Loss – I strongly believe this is required for a sustainable product in the medium to longer term. Experience tells me it's quite challenging when interests between the cover holder and the mutual are potentially misaligned.
This would involve something like providing a signed message from an address directly impacted by the hack before a claim could be accepted. While this isn't absolute proof it would limit claims to the actual loss incurred. More details to be worked through. This could apply to Smart Contract Cover (on a forward looking basis most likely) but would also be a more general building block for future products.

NFT Based Cover – this would turn cover into an NFT, which would mean cover could be sent to other addresses. It would allow easy renewal or adjustment processes, so cover periods could be extended, cover amounts could be increased etc.

Partial Claim Payouts – this is key functionality that is required to open up many future product options. Instead of a simple Yes/No claims outcome, the voting would be "how much?" with some sort of averaging process. This allows products to be built that reimburse actual loss much more closely.

Stacked Risk Cover – A specific product that allows protocols that are represented by a token to be covered not only for themselves but all underlying protocols AND all types of risk in one go. The idea is to allow the cover holder the ability to swap their protocol token for a fixed amount of another token (eg aDAI for USDC) at a fixed rate. If the cover holder sends in 100 aDAI then they can get eg 90 USDC in return. So if aDAI drops in value past the 0.9 USDC threshold for whatever reason then downside risk is protected.

Severe Oracle Failure – A specific product that pays the full cover amount if there is severe oracle failure. Needs to be 'severe' as a full claim payout is triggered but we believe this could be delivered with terms and conditions development only, rather than core protocol changes. Would likely start with Chainlink oracles to begin with.
I'm strongly supportive of all of these items based on positive feedback we've received so far. Priorities are a bit trickier though, so please provide specific feedback here as well if you can.