TLDR
Proposal seeking to allocate up to 70,000 wNXM from the Community Fund to the wNXM Bancor pool, assuming space is opened up in the pool. There is a proposal on the Bancor governance to increase the space to 10M BNT (~$25m of space for wNXM to be staked) gradually, 1M increment at a time.
Yields have been in the range of 2 - 15% over the last 2 weeks. Data on Liquidity Share, Turnover, and Trade Volume is presented.
Full impermanent loss protection provides a safe way for the Community Fund to earn additional yield on some of its idle assets.
Bancor's contract safety, single-sided staking and some upcoming Bancor 3 phase 1 features are especially interesting for a fund deposit.
Liquidity Share, Turnover, and Trade Volume Share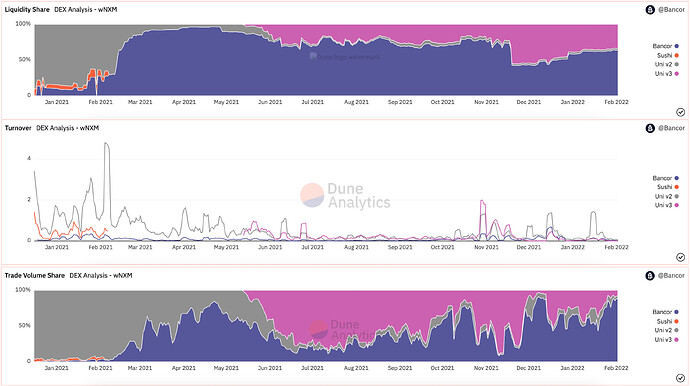 Figure 1 - wNXM Liquidity Share, Turnover and Volume Share since the beginning of 2021 [1].
Advantages of deploying on Bancor
Single-sided staking
Provide liquidity with only wNXM and get all the benefits of liquidity provision without ever selling a single wNXM token.
100% IL protection
Impermanent loss protection scales up with time on Bancor v2.1 but will be instantly provided on Bancor 3. Liquidity migration to Bancor 3 from Bancor v2.1 will immediately accrue 100% IL protection.
Furthermore, Bancor 3 Phase 1 (of 3) will offer several interesting features for LPs, especially for treasuries:
Auto-compounding TKN rewards and fees
Limitless pools with single-sided staking
Instant Impermanent Loss protection
LP tokens - they represent a share of the pool's liquidity+fees+rewards, which grows with time, making them an ideal collateral.
[1] Dune Analytics