EigenLayer now listed in the Nexus Mutual UI
If you're an active EigenLayer user, you can now purchase EigenLayer Protocol Cover to protect LSTs restaked within the EigenLayer protocol!
With EigenLayer Protocol Cover, you can protect against:
Smart contract code being used in an unintended way (e.g., exploits, hacks)
Sudden and severe economic events, such as:

Oracle manipulation/failure
Severe liquidation failures
Governance attacks

Get a quote for EigenLayer Protocol Cover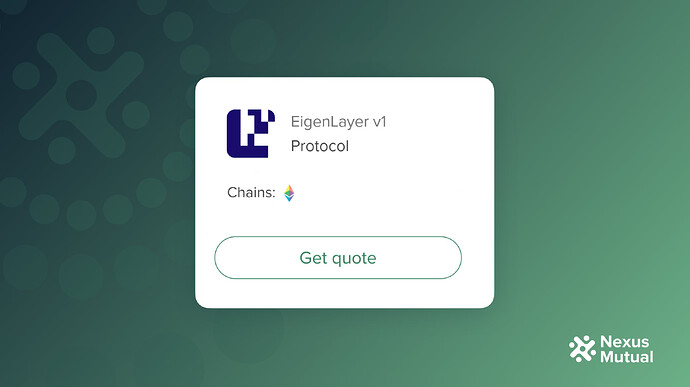 About EigenLayer
EigenLayer is a protocol built on Ethereum that introduces restaking, a new primitive in cryptoeconomic security. This primitive enables the reuse of ETH on the consensus layer. Users that stake ETH natively or with a liquid staking token (LST) can opt-in to EigenLayer smart contracts to restake their ETH or LST and extend cryptoeconomic security to additional applications on the network to earn additional rewards.
Learn more about EigenLayer by reading through their documentation and exploring the EigenLayer website.