Dear Nexus community,
Rex (founder @ DeFiSafety) and I (Jeremiah, founder @ OpenCover) are excited to announce we're partnering to help democratize DeFi cover.
We'd love to hear your feedback on our approach and are actively looking for partners to join us.
Context
In the wake of last week's Euler hack, it's clear that DeFi security is still an open problem. We believe a robust cover offering is a critical safety net the industry needs to become a credible complement to traditional finance for retail and institutions.
At the same time, the absolute and relative amount of covered value in DeFi has been decreasing in the last 9 months (~0.57% of DeFi TVL was covered on June 6, 2022 vs ~0.47% at present in USD terms).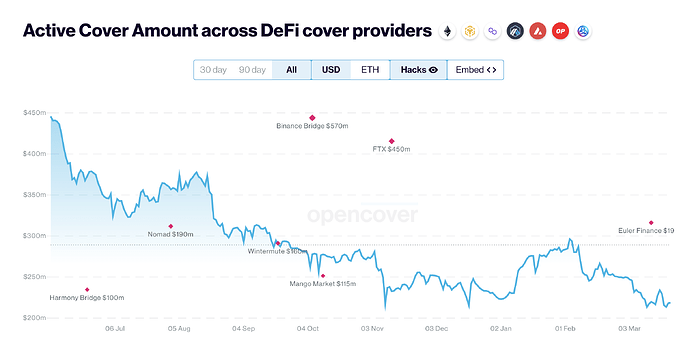 To move the needle on DeFi security, we think the best strategy is for the ecosystem to come together, pool its know-how and resources. As a first step in this direction, we've decided to join forces to a) launch Nexus V2 staking pools building on our and partner expertise b) build distribution channels to make cover accessible at the point of transaction (e.g. wallet, portfolio tracker integrations).
Specifically, DeFiSafety is developing a comprehensive quantitative risk assessment framework tailored to DeFi cover underwriting — leveraging the expertise gained developing the industy leading DeFiSafety protocol and chain scores — while OpenCover is assembling distribution partners and building the onchain and offchain infra needed to deliver on our mission.
We are taking a cautious, open and iterative approach starting with a single V2 staking pool, the DeFiSafety x OpenCover Blue Chip Protocol Pool. We aim to launch futher pools in short order, following the outcome of internal product development combined with market, community and partner feedback.
The DeFiSafety x OpenCover Blue Chip Protocol Pool
Our initial focus is on low-risk volume. The associated KPI is monthly number of new addresses that have purchased cover (OpenCover data indicates that less than 20,000 wallets have purchased cover all-time, out of an estimated 6+ million DeFi users [Nansen]).
Specifically, the pool comprises only the most battles tested DeFi protocols, priced to catalyze adoption:
Blue chip protocol criteria
Quality: DeFiSafety Protocol Score over 85% (development best practices followed, including independent contract audits).
Immutability: core protocol contracts non-upgradeable (constant risk and variables)
Maturity: protocol mainnet age > 12 months (demonstrated survival over time)
Stress-tested: in last 12 months TVL always > $100m and max TVL > $500m (longstanding exploit incentives present)
→ Contract audits and process reviews independently validated by DeFiSafety and OpenCover on all applicable chains using firsthand and onchain data.
Pricing
(145 - DeFiSafety score) / 30 → 1.5–2% yearly cost target, price decreases linearly with the protocol DeFiSafety score e.g. Liquity: 1.6% yearly cost, Curve All Pools: 1.73% (truncated to 2 decimal places).
Calling for feedback and partners
Whether you are a security researcher, liquidity provider, (d)app/protocol developer or just curious, we'd love to hear your feedback and see if we can work together to democratize DeFi Safety — drop us a line here or get in touch directly!
Ad astra,
Jeremiah Smith @itsJeremiahS
Rex Hygate @ShinkaRex / [email protected]