Background
Nexus Mutual has a "Foundation", Collective Risk Services CIC (CRS), which employs the core team and pays for other costs such as website, hosting, marketing, audits etc. CRS is a community interest company that operates on a non-profit basis.
To support the long term funding position of the Foundation it is proposed that the current 2.5% sell spread on any NXM redemptions is allocated to the Foundation instead of being burned as it is currently. This will give the Foundation some small base level of revenue, in the form of NXM tokens, which will provide more flexibility and options to support Nexus Mutual's growth.
The Foundation
In addition to being a non-profit with no equity, the Foundation has an asset lock that ensures assets can only be used for its core objects which are specified in detail here. The primary object is "creating and implementing community risk sharing ecosystems". The combination of clearly defined objects and an asset lock ensures there are significant legal restrictions on the use of the Foundations funds.
Funding for the Foundation has been sourced to date from the initial grant of 1,000,000 NXM tokens when Nexus Mutual was first launched. Since then, some of these NXM tokens have been sold and/or granted as incentives to attract capital into Nexus Mutual as well as raise operational funding for the Foundation.
The current funding position as at end of March 2020 and approximate burn rates of the Foundation are as follows:
Address: 0xFC64382c9Ce89bA1C21692A68000366a35fF0336
| Assets | Burn Rate |
| --- | --- |
| 598,893 USDC | $72,000 per month approx. |
| $328,500 USD equivalent (bank accounts) | Approx 6 FTE equivalent. |
| $927k Total USD Equivalent | 1 Founder, 1 CTO, 3 Engineers, 1 Comms & Marketing |
| 335,428 NXM | |
Before selling any further NXM this implies an existing runway of just over 1 year.
Encouraging adoption of the Nexus Mutual network is expected to lead to NXM price appreciation and significant extension of this runway. However, the current funding situation does imply that the core team can not expand materially and the adequacy of the Foundation funding over the next 3 years is strongly linked to NXM price appreciation.
This proposal aims to provide a small baseline of revenue that can be relied upon to provide more certainty and options for the Foundation to best support Nexus Mutual's growth.
Historic NXM Burns from Redemptions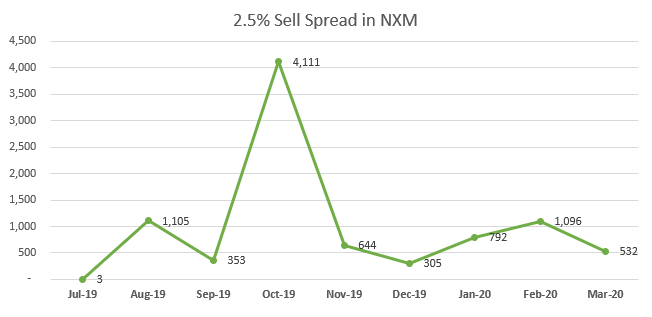 Currently NXM being burned due to the 2.5% sell spread is quite volatile but has averaged around 1,000 NXM per month since protocol launch.
At a current NXM price of $2.45 this amounts to approximately $2,500 per month.
Feedback is welcomed on the proposal. If it is positively received, then smart contract changes would need to be developed in advance of a formal governance vote.