Hi
I'm have been a member of nexus since very early. Currently Nexus is mainnet only. What I wonder is, if Nexus has a strategy to move to an L2?
Maybe there is even a way to live for retail costumers mainly on an L2 and big hitters stay on mainnet.
My biggest concern is that we may see 100 gwei for extened time in the next bull and with ETH 10K, this would be a very expensiv world.
I made a screenshot to illustrate this:
For this cover 365 days / 5 ETH ($8225) , I pay 0.097 ETH ($148.51) with the current price of 1645 $ / ETH
This cost me 0.073 ETH in gas if its 100 gwei. This is around$ 120. (The shown 43.10 is the price with the gas right now)
And now we say ETH is 5x in the next bull, this is 8225 $ / ETH
For the gas I will pay with 100 gwei, still 0.073 ETH, but thats $600 then.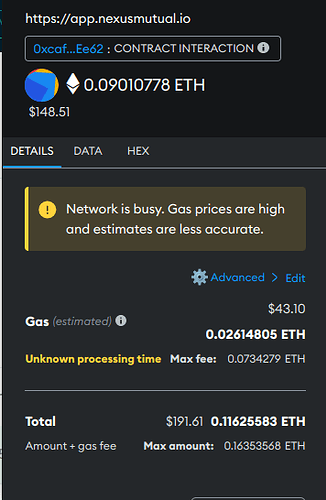 So how do you deal with this? Any plans?