Official News
Week in Review (29th Nov - 5th Dec)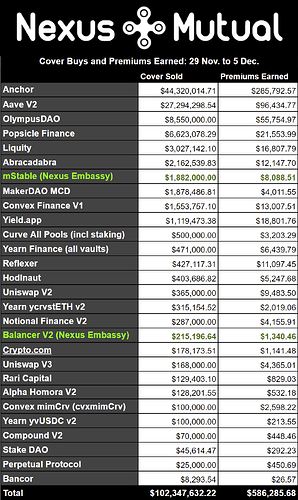 stETH Earned
The mutual staked 15,000 ETH in Lido for stETH in May 2021. In September 2021, the mutual increased the allocation from 15,248 stETH to 30,000 stETH.
To date, the mutual has earned 547 stETH since May and 261 stETH since the allocation was increased in September. The productive assets in the capital pool are adding value for members.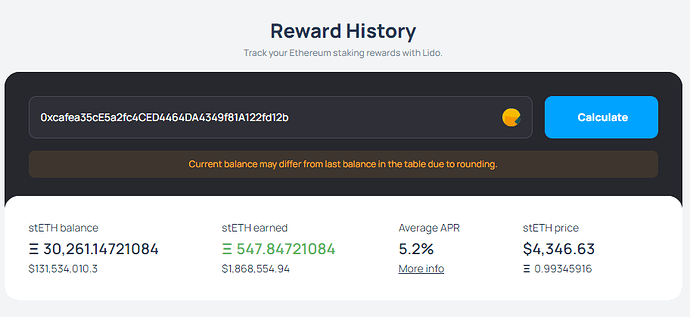 New Listings
Nexus Mutual recently added Protocol Cover listings for OlympusDAO, Pool Together v4 and Ribbon Finance V2.
OlympusDAO is building a decentralized reserve currency protocol based on the OHM token. Each OHM token is backed by a basket of assets (e.g. DAI, FRAX) in the Olympus treasury. Members can read about more about Olympus by reviewing their docs: https://docs.olympusdao.finance/main/
Ribbon Finance V2 helps users access crypto structured products for DeFi. It combines options, futures, and fixed income to improve a portfolio's risk-return profile. Members can read about more about Ribbon Finance by reviewing their docs: https://docs.ribbon.finance/
Pool Together recently launched their v4. We've listed multiple versions previously and are excited to continue offering coverage for their new protocol. PoolTogether is a service that lets users stake cryptocurrency into lottery pools for a chance to win a significant weekly prize pool. You can learn more about the changes in their v4 Q&A: https://www.notion.so/V4-Q-A-f1897e4a9c0441dfa350eb5c690156d1
We still need Risk Assessors to stake against Ribbon Finance V2 and Pool Together v4 to create open capacity. Review the protocols and stake NXM if you believe Ribbon Finance or Pool Together v4 is trustworthy and has bug-free code, and earn a proportional share of 50% of the cover premiums when members buy Protocol Cover for these protocols. See more information in the Nexus Discord: https://discord.com/channels/496296560624140298/619447759203860481/917450992516202516
All of these protocols had been requested by Nexus Mutants.
If you would like to see other protocols listed, share your request in the #listing-requests channel in Discord: https://discord.gg/Jx98CjcU
Please provide links to the website, docs, audits, and any other information relevant to a posting.
Claim 153: Another CREAM V1 claim paid
A claim for 12 ETH was submitted on December 5. After Claims Assessors reviewed the claim, they determined it was valid after confirming the loss on chain. After a successful vote, the 12 ETH was paid to the affected member.
This member responded on Twitter and expressed gratitude for having their claim accepted. The BNT they lost in the CREAM exploit was a major portion of their holdings. Because they covered their crBNT with Protocol Cover from Nexus Mutual, they were able to receive reimbursement. Nexus Mutual exists to protect users against smart contract and technical risks so they don't lose crypto when hacks occur.
https://twitter.com/Kareim30184380/status/1468567815326216195
Wartortle
Hugh shared an update on this week's Mutant Meetup call regarding Operation Wartortle, the mutual's effort to transition to a stateless DAO. Hugh shared that the tax advice is still being reviewed, but the team believes they will be able to share the options available to members in the near future. At that time, members will be able to vote on the options presented as part of the Operation Wartortle effort.
Notional Finance AMA
On Thursday, we hosted the Notional Finance team for an AMA on Discord Stages. Members were able to ask questions about Notional V2 and the fixed-term, fixed-rate lending markets Notional offers to DeFi users.
For those who missed the AMA, you can review the recording here: https://www.loom.com/share/c5b41db6f0f8497d8c385d1477f5aef3
Last week, we shared a Protocol Spotlight on Notional Finance V2: https://medium.com/nexus-mutual/notional-finance-v2-listed-protocol-spotlight-827f0eb29ce
Members can review the Notional Finance AMA thread here: https://discord.com/channels/496296560624140298/916309274806878218/916329122999959622
Mutant Meetup Recording
If you weren't able to join us for our Mutant Meetup call this Tuesday, the recording is now available for review: https://www.loom.com/share/90cc3521187642aa8eabf34ecdd33b40
Every Tuesday at 10am EST (3pm UTC), we hold our Mutant Meetup call where members can stay up-to-date on what's happening within Nexus Mutual, discuss current events within the mutual, and ask questions. Mutant Meetups are on open forum for members to discuss all things Nexus Mutual.