Offramp.xyz now listed in the Nexus Mutual UI
If you're an active Offramp.xyz user, you can now purchase Offramp.xyz Protocol Cover to protect crypto deposited in the Offramp.xyz protocol on EVM-compatible networks!
With Offramp.xyz Protocol Cover, you can protect against:
Code being used in an unintended way (e.g., exploits, hacks)
Economic design failure
Severe oracle failure
Governance attacks

Get a quote for Offramp.xyz Protocol Cover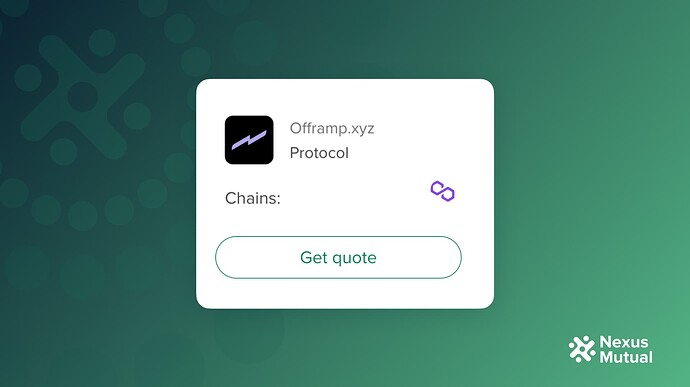 About Offramp.xyz
Offramp.xyz is a decentralized P2P exchange protocol, where users can onramp into crypto or offramp into fiat using a Wise account.
Exchange crypto-to-fiat from MetaMask to your Wise account. No KYC needed to use Offramp.xyz.
You can enter the amount and type of crypto you wish to sell on Offramp.xyz. This will list an offer visible to everyone who uses the protocol.
The protocol is deployed on the following EVM-compatible networks:
Polygon
Arbitrum (coming soon)
Optimism (coming soon)
Learn more about Offramp.xyz by reading through their whitepaper and exploring the FAQ page on their website.