Hello dear Nexus Mutants,
I've been thinking about official Nexus NFTs and how to implement them.
Here is what I think could be really cool to gamify the experience, engage members and attract new ones :
Each action in the mutual would be rewarded by a different NFT,
Low-tier
Mid-tier
Buying coverage
Staking / risk assessment
Claim assessment
Participating in Shield mining
Top-tier
An elite NFT that would be unlocked once a member has all previous NFTs
One more top-tier NFT ( can't announce it yet)
The artworks would be in the theme of the action performed in the mutual (e.g. staking= protecting DeFi )
The next step would be to gamify and make "achievements" like illustrated in the picture below :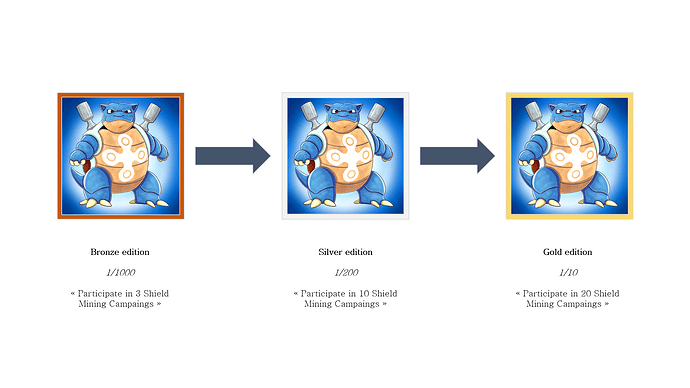 Thanks to @rchen8 , Diego Rodriguez is considering doing the artworks. I had made a shortlist of artists and he was my personal favorite so I'm super happy about that. Here you can see some of his previous work :
He is asking for 1ETH / artwork so it would be 7 ETH for the 7 artworks that I mentionned. The delay would be ~ 1 month.
He will confirm to Richard later today/tomorrow. Otherwise, I will ask quotes to other artists ( or if some of you have artists that you love, feel free to post their art or reach out to them). He is pretty busy so the sooner we can confirm to him the better ( if the community likes the idea ofc).
Please guys, let me know what your thoughts are about the project. Would be nice to get the sentiment from community ASAP so we could proceed to a community vote!
UPDATE : Diego is too busy so he won't do the artworks. I'll start contacting other artists.