Following on from previous discussions on this topic we've been working on some draft functions.
Risk Cost = f(1) x f(2) x f(3)
| Function | Description |
| --- | --- |
| f(1) | Raw Risk Cost, pricing is determined by how much is staked. Formula has been altered from current to avoid the use of min/max. |
| f(2) | Supply/Demand factor, determines how much pricing load or discount should be applied based on the ratio of Stake to Active Cover |
| f(3) | Surge Pricing factor, determines the pricing loading required when Active Cover amounts get close to the Global Capacity Limit |
Previous discussions have focused on the surge pricing factor which increases rates if global capacity is nearly used up. I believe we should also have a supply/demand factor which keeps rates stable within a range but then either loads or discounts rates based on the ratio of staking to active cover, this should help cope with market conditions more dynamically and reduce reliance on governance.
Some draft functions and graphs are included here: https://docs.google.com/spreadsheets/d/1Tl9IyElF3qMoYYFdGjDfHtgLLOTc54lmoAVqg9QTRGQ/edit?usp=sharing
Feel free to copy and play around with the factors to see how the curves move.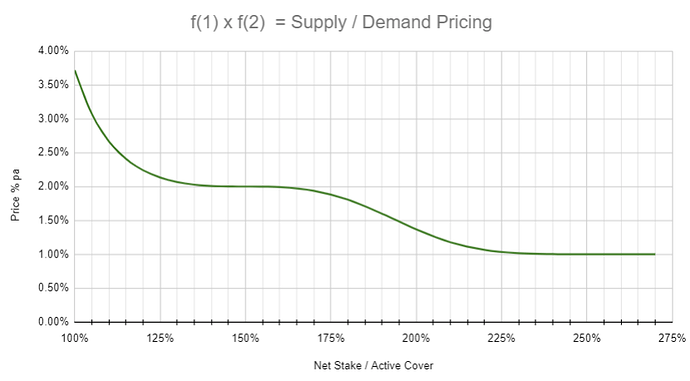 Uses price at max stake as an example (meaning f(1) is fixed in the graph). When a risk is heavily staked there is a 50% discount. When a risk is under staked the price increases up to nearly double.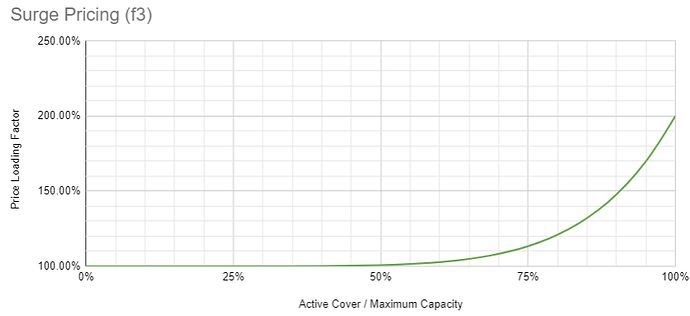 Similar to @Drazav suggestions from a while ago. Small loadings from 50% up to 75% of capacity used increasing to 2x price at max capacity
We can tweak shapes on these curves, so any feedback on these aspects is appreciated.