Summary
The proposal outlines the formation of the "Nexus Mutual Academy," designed to craft comprehensive educational content for Nexus Mutual. This project will leverage our team's extensive experience and proven track record in developing educational materials for other notable DeFi platforms. The educational website will bear similarities to our most recent academy project, which can be found at https://uniswap.university.
Nexus Mutual Academy will help:
Get more community involvement
More people will get to know about Nexus Mutual, so will lead to higher adoption
People not part of the mutual can see how it works with the recorded simulations/clickable-demos
Build lasting trust and reputation for Nexus Mutual.
Rationale
Our academy sites stand out as interactive platforms, breaking away from the conventional reliance on static documentation. This shift is fueled by our commitment to delivering an engaging and user-friendly experience. We recognize that people genuinely appreciate our approach, which is the driving force behind this initiative. We aim to create an impact by providing members with comprehensive education, enabling them to make well-informed choices regarding coverage, claims, etc.
As done for Uniswap, we would create many illustrations or visuals to help explain concepts. We have a very senior designer whose work can be seen in the thumbnails or Uniswap diagrams (uniswap.university).
Furthermore, our team is open to feedback and collaboration with the Nexus Mutual marketing group for the promotion of the educational platform. This suggests a cooperative and iterative approach to the project, highlighting not only the utility of the educational content but also its role in fostering community engagement through regular learning sessions.
We recently added a ratings feature to "fuse.university," and many users enjoy our user interface a great deal.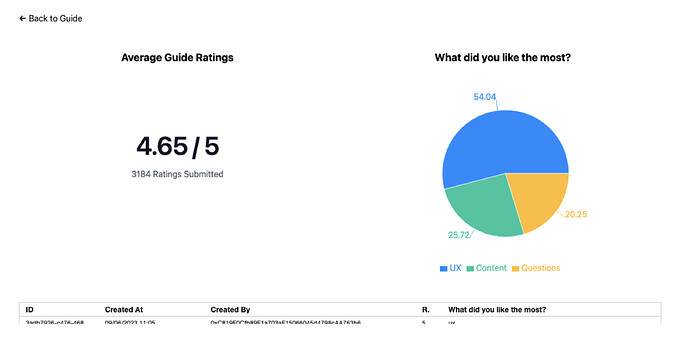 Besides explaining the protocol more clearly, our academy websites foster trust and openness. This benefits not only the specific protocols but also enhances the broader ecosystem.
Specification
We plan to create educational resources in a range of formats, allowing users to select the one that matches their preference and availability:
Guides - These nano-courses focus on specific topics and can be completed in 5-10 minutes. Learning is reinforced through evaluative steps, including multiple-choice questions. If desired, we can offer rewards such as tokens or NFTs upon completion.

Simulations/Clickable Demos - Recognizing that users in the blockchain sphere often hesitate to click links or buttons, we aim to acclimate them to the protocols through our simulations. These offer a reliable means for users to learn without concerns over security or incurring gas fees.

TidBits - This format consists of concise, step-by-step content, with each piece containing 5-10 sentences. This approach facilitates quick comprehension of key points without the need for users to read through extensive materials.

Courses - These provide comprehensive insights through a blend of text, diagrams, videos, and questions. Requiring 30-60 minutes to complete, each course offers a structured and efficient means for users to gain detailed knowledge.
You can review our collaborations with other renowned platforms at the following links:
uniswap.university
compound.education
aave.academy
dodao.academy
+ ~ 10 more
With approximately two years of experience in DeFi education, we have a deep understanding of this sector. We are exceedingly confident in our ability to create the best content for Nexus Mutual.
Our group consists of developers adept at creating both tech and basic DeFi content. When not engaged in coding, we dedicate ourselves to content creation.
Having worked as a developer for 16 years and gained proficiency in 7-10 programming languages, I am the primary force behind 95% of DoDAO's platform and am currently writing a DeFi book. I will spearhead the content creation for this project.
We plan to cover the following topics in the form of guides, tidbits, and courses:
Introduction to Nexus Mutual
Explain structure. i.e the Foundation and Nexus Mutual DAO
Membership
Cover Products
Membership
Why become a member
Requirements
Next Steps
Products: Protocol Cover
Risks covered
Details about the product
Claim process
Products: ETH Slashing Cover
Risks covered
Details about the product
Claim process
Products: Quota Share Cover
Risks covered
Details about the product
Claim process
How Nexus Mutual Works
How the protocol works
Capital Pool
Staking
Buying Cover
Claim Assessment
NXM Token
What can you do with the token?
Token Model
Tokenomics
Cover Prices
Spot price
How pricing works (Who sets the price)
Surge pricing
Benefits of Dynamic Pricing
Staking
Staking NXM
Staking Pools & Staking Pool Managers
Rewards
Risks
Claims
History of Claims
Types of Claims
Claim Assessment Process
Filing a claim request
Acting as a Claim Assessor
Governance
How the DAO Works
NMPIP & NMDP
Proposals
Contributing to Nexus Mutual
Timeline
4 Weeks - Rough Drafts
2 Weeks - 12 Guides & ~20 Tidbits
2 Week - Simulation and a Course(course contents will be very similar to guides)
We are aware that the team is working on new version of Nexus Mutual Protocol. We would want to get started by around November 15 and have the academy site completed by January 31, 2024.
Budget & Milestones
Milestone 1 - Review of rough contents - $7500
Milestone 2 - Review of Guides and Tidbits - $3500
Milestone 3 - Review of Simulations and Courses - $3500
Milestone 4 - Final Delivery after reviews - $2500
To bring this educational platform to life for Nexus Mutual members, we are seeking a total funding of $17,000.
Proposal Status
Open for Comment