There has been quite a lot of change in the DeFi markets over the past few months and especially for Nexus with massive cover growth, a large increase in the capital pool and now activity calming down a bit.
As you may have noticed the MCR% has been slowly decreasing for the past several weeks. While I don't see any fundamental issues here, more of a short term vs long term situation, it got me thinking if we need to change anything with the incentive mechanics. And in particular can we use the situation to improve incentives more broadly and encourage the right behaviour.
Nexus will work best, and will scale best, when it has lots of members who are focussed on the long term. Therefore I believe the time is right to consider introducing a mechanism to gain greater alignment over longer time frames which also strongly encourages re-capitalisation of the pool when required. Specifically I am proposing the following:
If the MCR% is below 130% members may lock their NXM for a 1 year period and receive bonus NXM tokens (newly minted), with the bonus rate based on how far below 130% the MCR% actually is.
Bonus % as follows: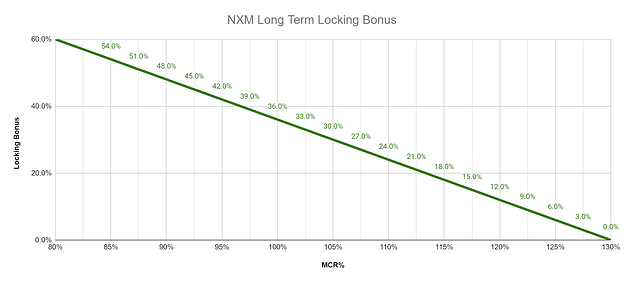 Further details:
Bonus % = [130% - MCR%Current ] x 1.2
Members will be able to stake for Risk Assessment as well as lock for bonuses at the same time, so this won't compete with staking capital.
Bonuses to be under the same 1 year lock as the original tokens.
Locked tokens can't relock to get another bonus.
Potential Downsides:
Additional NXM inflation.
Worst case is that existing long term holders access NXM bonuses but material capital doesn't flow into the pool.
While this is a relatively small change, it will delay other work.
Key Benefits:
Provides a strong additional incentive to recapitalise the pool at lower MCR%, especially after any large claims.
If large claims were to occur, there is the potential for a race condition to start and reduce the pool to 100% while the pending claim is being assessed. This would provide a significant off-set to that.
Materially reduce the probability of ending up "withdrawal locked" at 100% MCR
Provides a potential path to greater decentralisation by having a long term aligned subgroup that could perform actions currently performed by the Advisory Board.
Attracts more wNXM back into the mutual to access bonuses.
The proposal brings together a variety of aspects I've been thinking about for a while but it does entail a material change to economics so please chime in with thoughts.