Overview
Much has happened since Mutant Marketing was established. We're pleased to share our roadmap for the next two operational quarters and the progress we've made to date.
Mutant Marketing was established to accelerate the growth of cover sales and membership in the mutual. In the last two quarters, the Marketing Hub has improved community communication and relationships with listed protocols, while contributing to the growth in cover sold and premiums earned.
In the last quarter, Nexus Mutual sold $502.8m in cover and earned $2.83m in premiums based on historical numbers. Our membership has grown from 7,977 to 8,287 members, a 3.89% quarter over quarter. We'll review sales, premiums earned, and other metrics further in this post. We have worked hard to deliver value to members of the mutual and below is our plan to contribute to growth across metrics.
In this post, we'll outline the objective and supporting key results for the next two quarters in 2022; outline our proposed budget; and review our performance in the last quarter and budget expenses.
Note: in our last report, we cited numbers adjusted for the price of ETH at the time the report was published. In this report and subsequent reports going forward, we will use historical cover sales and premiums for our quarterly reports.
All numbers in this report are as of 20 January 2022.
Review Period
This proposal is open to review for the next seven (7) days. We welcome community discussion around the Marketing Strategy & Budget.
At the end of the seven (7) day period, this proposal will proceed to Snapshot vote.
If the Nexus Mutant community approves the Marketing Strategy & Budget, Mutant Marketing will have the funding necessary to hire additional staff, scale our hub, and begin the process of executing the outlined marketing campaigns.
Q1 + Q2 2021 Focus
Over the next two quarters, Mutant Marketing's main focus will be the lead up to and launch of Nexus V2. The development team has been hard at work building the next iteration of the protocol, and we couldn't be more excited about the revolutionary change that Nexus V2 will bring to on-chain markets for risk.
Mutant Marketing will work with the core term to educate the DeFi community about the improved user experience and the added composability benefits present in V2, as well as the role of syndicates in the protocol going forward.
Objective
Ensure Nexus V2 is received as the premier on-chain market for risk within DeFi.
Key Results
While Nexus V2 will create new possibilities for the mutual, Mutant Marketing will work to make each audience aware of the benefits that V2 unlocks for them. We want members, protocols, and institutions to realize the potential available once the new iteration of the protocol launches. Below are the key results that support our objective for the next two operational quarters.
The Objective and Key Result (OKR) framework is meant to keep organizations focused on outcomes by defining goals and establishing measurable outcomes. OKRs are meant to motivate and inspire; these goals may seem lofty, and that's because they are. By setting lofty goals, Mutant Marketing is working to reach new heights every quarter.
Key Result #1
Generate conversations that lead to ten (10) protocol integrations for the mutual over the next two quarters.
Mutant Marketing will identify protocols that would benefit from offering a Point of Sale integration with Nexus Mutual. Economic incentives will be better aligned in Nexus V2, and every protocol in DeFi should be made aware that we can:
Provide an integration that earns their DAO a commission

Help them onboard more risk averse users by offering cover at the point of sale

Take on a portion of the protocol's risk to mitigate the impact of a loss event
Cover a greater percentage of a protocol's TVL and save them money, if they are providing self-insurance through a safety module
Yield aggregators and protocols that use a safety module model can benefit from a direct Point of Sale integration or by offering bundled token coverage. Over the next few months, we will write a series of posts outlining how various DeFi protocols can benefit from a direct integration. For those protocols that use a safety module, Nexus Mutual could act as a reinsurance layer that would reduce the correlation risk between assets staked in a safety module and native governance tokens held by a DAO's treasury.
Through an awareness campaign, we can highlight the various ways protocols win when they integrate with Nexus Mutual after the launch of V2.
Key Result #2
Grow 7-figure cover buy volume from $775.2m to $1.55b over the next two quarters, which represents a 100% increase compared to our last two quarters.
We know there are institutions who want exposure to the high yields they can earn on stablecoins in DeFi. Most of our efforts, to date, have been targeted at audiences who are already active in DeFi and on-chain. If we're going to onboard more institutions to DeFi, we need to identify where they are learning about the mutual. By defining the institutional funnel, we can start creating awareness among institutional investors and funds to bring those native to traditional finance to DeFi.
We will work to reach more institutional investors and make them aware that they can get exposure to on-chain yields while minimizing their exposure to smart contract and technical risks with cover from the Nexus Mutual.
Key Result #3
Generate conversations that lead to eight (8) basic syndicates within the next two quarters.
By educating target communities made up of subject matter experts (SMEs) on smart contract security about syndicates, we can onboard security experts within the industry to serve as syndicate operators for the mutual.
When syndicates are formed by respected members of the industry, we can create an on-chain market for risk where pricing is competitive, exposure to risk is better managed, and members are more likely to delegate their NXM to increase capacity for listed platforms/products.
Syndicate operators have the ability to earn fees for managing NXM stakes, but those who form syndicates need to be trusted by members of the mutual. As Nexus V2 grows closer, Mutant Marketing will conduct an outreach and education campaign to make security experts aware of the opportunities available to them within Nexus Mutual.
There are several syndicates that can exist in V2, but the simplest form of a syndicate is run by an SME that determines staking allocations, weights. Members who may not be knowledgeable about smart contract risk but want to earn yield on NXM can delegate their NXM to a syndicate, earn yield, and reduce their gas costs, as gas costs will be socialized within a syndicate.
Q1+Q2 Budget
Below is our proposed budget for the next two quarters: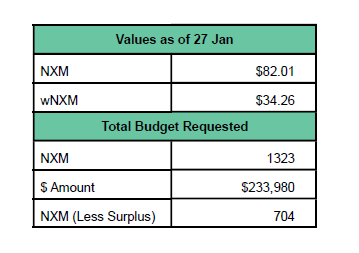 Proposed Budget in Google Sheets
After the budget surplus from the previous two operational quarters is applied, we are requesting 704 NXM and $233,980.
We've outlined our costs in terms of NXM and USD, as not all costs are paid directly in NXM or wNXM. The costs associated with marketing, graphic design, and contributor pay for part-time and full-time members of Mutant Marketing is denominated in part in USD to meet tax obligations and cost of living expenses. The rest of our expenses are denominated in NXM.
The NXM expenses are all allocated to staffing costs. In the next two quarters, we will be growing our team to include two Community Support staff to help us moderate and manage our social channels, while growing our engagement with the Nexus Mutant community. We will also look to add additional Nexus Community Ambassadors, though we expect the Nexus Embassies to grow in the following quarter once Nexus V2 has launched.
The Marketing Lead pay is denominated in USD, but I will be paid in DAI and wNXM; while pay will be in wNXM, it will be denominated in NXM value for purposes of payment. I'll be paid $12,500 worth of NXM, which will be wrapped to wNXM and provided as payment.
The Community Engagement Hub is planning a series of workshops to help onboard more members who have a background in traditional finance. There is an allocation to help them market those workshops. We also have marketing funds requested for the launch of V2 and to further our syndicate awareness campaign. When Nexus V2 is ready, we want everyone to know about it, so we've requested funding to help us promote, create awareness of V2's revolutionary approach to managing risk in DeFi.
Below, members can review our performance to date.
Marketing Second Quarter Performance
Lee (BraveNewDeFi) and Jeremy (Jer979) were the first two contributors to Mutant Marketing. Since we were established, we hired:
Two Nexus Community Ambassadors to represent the mutual in targeted partner protocols that opened a Nexus Embassy in their Discord server.

Cryt0non represents the mutual in the Alpaca Finance Discord; and
Fungus represents the mutual in the Balancer Labs and mStable Discord servers.

A technical writer to help build out a knowledge base for Nexus Community Ambassadors and other contributors of the mutual.

Jiraiya works as a Nexus Writer. His main focus is summarizing the infrastructure and risks present in various listed protocols.

A copywriter to help us develop compelling copy. We are currently focused on overhauling our website to prepare for a relaunch coinciding with the launch of Nexus V2.

Chris is working closely with the Marketing Lead and the core team to develop copy for various audiences.

Two graphic design firms that work with Mutant Marketing on a contractual, hourly basis.
We're currently in the process of interviewing candidates for a Community Support Manager position, so BraveNewDeFi can focus more on marketing and communication efforts for the mutual. All of the members working for Mutant Marketing have played an important role in the Hub's success to date. First, we'll review cover sales and our key results. After this, we'll evaluate our progress to date and the efficacy of our programs.
Key Results
Key Result #1
Increase the number of annual Cover Policies Sold from 4,107 (YTD) to 9,000. [4,893 annual cover policies / 1,224 policies per quarter]
The mutual sold 643 covers (52.53%) and 449 covers (36.68%) when Armor Fi sales are filtered out. Going forward, we'll review the increase in cover sold and premiums earned; we have seen an increase in both of those metrics quarter over quarter. If we are evaluating how much value we are delivering to members, it will be better to focus on volume of sales and premiums earned rather than number of policies sold.
Key Result #2
Grow the number of seven figure cover buys from 350 within a six-month period (350 between Dec 21, 2020, to May 21, 2021) to an additional 440 cover buys within a six-month period, or a growth of 125% from existing levels.
Much like we shared above, measure the number of 7-figure covers buys hasn't been an accurate depiction of growth. We sold 103 7-figure cover buys in our second operational quarter, which is an increase of 8.42%. However, The increase in total volume sold was 50.65% and the increase in volume of total premiums earned was 26.12%.
While we sold 198 7-figure covers (25.06% of 790 goal), we saw a significant increase in large cover buys during that time. To better track our performance in onboarding institutions, we'll track volume or number of cover buys going forward.



Mutant Marketing: Second Quarter Sales, Premiums, and Rates of Growth
After reviewing cover sales and premiums earned based on historical averages, the mutual realized $502,856,237.02 in total cover sold and $2,838,359.61 in premiums earned. While the total number of cover policies sold was lower, the mutual saw significant growth in the average cover buy and average premium earned. As stated in the introduction, our membership has grown from 7,977 to 8,287 members, a 3.89% quarter over quarter.
The mutual has seen continued growth quarter over quarter. The total cover sold increased by 29.28% and total premiums earned increased by 22.09%. If we filter out cover buys that originated on Armor Fi, we've seen total cover sold grow by 16.26% and total premiums earned grow by 7.86%.
Our averages have increased substantially, as well. When all covers are viewed, we saw the average cover buy grow from $542,595.92 to $884,769.89 (63.06%) and the average premium grow from $3,293.99 to $5,072.36 (53.98%). If we filter out cover buys that originated from Armor Fi, we've seen the average cover buy grow from $555,244.81 to $1,119,947.08 (101.70%) and the average premium earned grow from $3,378.08 to $6,321.51 (87.13%. Below are the full growth across metrics: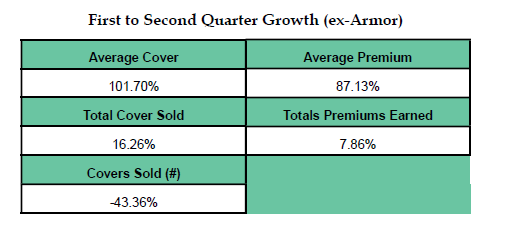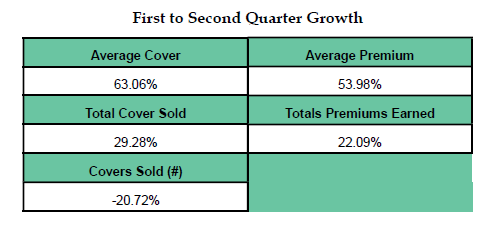 Members can review the First and Second Quarter Sales by Month here:

Members can review the First and Second Quarter Sales by Month (excluding Armor Fi) here:

Nexus Embassy Program
The aim of this program was to strengthen our relationships with listed protocols and help those protocol communities capture more risk averse DeFi users by educating them about Nexus Mutual's cover products and the protections they offer. Our Ambassadors have helped sell $11,336,500.00 in cover, which have brought in $56,179.73 in premiums based on historical averages. Below is a breakdown of cover sales and premiums earned by Nexus Embassy.
In the last quarter, the Nexus Embassies added a total of $8,179,032.99 in cover sales and generated $34,185.51 in net profits after Ambassador pay is factored in.
mStable
The mStable team has been very supportive, and Fungus has seen regular engagement with community members. Many of the community members who have reached out to Fungus have asked about the mutual, become members, and shared when they have purchased cover for mStable and other protocols as well. Many of these users were thrilled that there was a way to hedge against smart contract and technical risk.


In the last quarter, mStable has seen a significant increase in cover buys. While cover sold grew by 53.11%, premiums grew by 73.62%, which indicates cover was purchased for longer durations. Using pay to date from the last quarter and projected pay for the next month, Fungus has received 36 NXM ($3,993.59) for his work as Ambassador. The total profit the mutual has seen from the mStable Embassy is $28,541.25.
Just as important as the premiums earned, the mutual's relationship with mStable has grown much stronger since the Embassy was established. Fungus has been recognized for his contributions to the mStable community from users and core team members alike:



Balancer V2
The Balancer Labs Embassy has seen growth in premiums earned, while there has been a decrease in total cover sold. The mutual's presence in the Balancer community has bolstered our relationship with the protocol community. Notably, Nexus Mutual was listed as an option to hedge against risk when Balancer discussed and passed their Invest FEI, TRIBE, and MTA Tokens proposal. While the community elected not to cover their assets, the mention of the mutual was a step in the right direction. Fungus has seen steady engagement in this Embassy, and his work has resulted in premiums earned totaling $8,725.86. Using pay to date from the last quarter and projected pay for the next month, Fungus has received 36 NXM ($3,993.59) for his work as Ambassador. The total profit the mutual has seen from the Balancer Labs Embassy is $4,732.27.


Alpaca Finance
In the last quarter, there has only been one large Alpaca Finance cover buy, which earned the mutual $4,905.57. Crypt0non has provided an overview of past exploits and outlined the benefits of protecting your crypto assets with Protocol Cover from Nexus Mutual. While there has been a slight decline in cover sold and premiums earned, the mutual still profited from having the Alpaca Finance Embassy open. Using pay to date from the last quarter and projected pay for the next month, Crypt0non has received 36 NXM ($3,993.58) for his work as Ambassador. The total profit the mutual has seen from the Alpaca Finance Embassy is $911.99. While this Embassy hasn't seen significant cover buys in the last quarter, the launch of AUSD and the potential for Alpaca Finance to launch on Ethereum present opportunities for growth.


Embassy Expansion Plans
While we sought out target communities where a Nexus Embassy could deliver the most value, we were not able to make progress with the core teams for those protocols. Mutant Marketing could hire an Ambassador, but without the cooperation of the listed protocol community, we would likely squander our time and resources. As our focus shifts for the first two quarters of 2022, we'll capitalize on opportunities to expand the Nexus Embassy program, but we will prioritize other efforts ahead of further expansion.
Once Nexus V2 launches, we can use the Nexus Embassy program to help Nexus distributors communicate the value of our cover products to their target market.
DAO Coverage Campaign
Mutant Marketing reached out to protocols that were mulling over treasury diversification and deploying treasury assets into DeFi protocols, and members of the mutual also reached out to DAOs that were looking to deploy assets. However, treasury diversification is still at an early stage within DeFi. While our efforts did plant the seeds for future collaboration, many plans were never realized, as the core proposal to discuss diversification in several protocols was rejected in governance.
We discovered that our small team cannot effectively reach many DeFi protocols to create awareness about the ability to hedge against smart contract, technical, and de-peg risks with the mutual's cover products. This is all the more reason we believe it will be necessary to focus on Nexus V2 over the next two quarters, as V2 better aligns economic incentives between the mutual and distributions of cover.
Nexus Website Overhaul
Our copywriter Chris has worked with us to develop our brand message so that we can write content that speaks to our different audiences: individuals, institutions, and DAOs. We have also secured a marketing firm to work with us on the visual rebrand of the website. The release of the revitalized website will coincide with the launch of Nexus V2. We look forward to revitalizing the website and increasing our site traffic.
Budget Expenses to Date
Members can review our original budget proposal for the first two operational quarters on the forum here.
Originally, we budgeted for additional Nexus Writers and Nexus Community Ambassadors; however, finding writers in DeFi is difficult, as they are in high demand. We were able to hire one technical writer to help us build a knowledge base and a copywriter to help us create engaging copy. We were not able to onboard new Ambassadors, as the target communities we approached to open new embassies decided they didn't want to promote one option for coverage over another.
You can see our expenses to date, which include the payments for the month of January for our staff: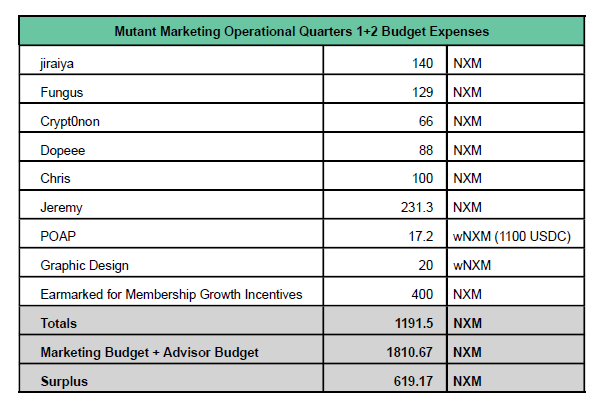 The funding for the Marketing Lead and Marketing Advisor positions was proposed on the forum and passed via Snapshot.
I started working and contributing full-time in June 2021, which is reflected above in my historical pay for the Marketing Lead position.
The current surplus will be carried forward to the proposed budget that will fund the next two quarters of operations.
Conclusion
In the next two operational quarters, we'll focus on growing our hub, so we can better engage with our community, reach more users in DeFi and TradFi, and contribute to growth across metrics. We are always working to deliver more value, increase membership, and better serve members of the mutual. We welcome comments, discussion, and feedback.